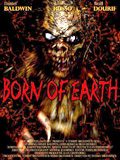 Joseph Thompson was a tattoo artist who wrote short stories in his spare time when he decided to become a screenwriter.
"I once said there's nothing worse than not knowing your place in this world," ScriptBuddy screenwriter Joseph Thompson said. "I've had a lot of jobs and I've always been an artist, I've sold sculptures, paintings, tattooing for 13 years. But something inside me told me I was supposed to be doing something else."
At six years old, when most kids are watching Nickelodeon, Thompson was dying to make horror films. But child labor laws and eventually the duties of grown-up life got in the way. It wasn't until his late twenties when his life slowed down a bit that Thompson had time to rekindle his dream of writing horror... with a little help from ScriptBuddy.
"I was originally going to try it with a typewriter, but when I started reading scripts, I had no idea how to set up the format. I got a computer, and when I found ScriptBuddy, it just saved me. You type in what you want and it formats it for you. It was real easy to follow, how it breaks it all up for you — the action, the dialog, everything - and you kind of learn as you go. I couldn't ask for anything better to help me get it across so quickly. ScriptBuddy helped me go from writing short stories to the script medium."
As a teen, Thompson was interested in ancient civilizations, particularly Sumerian religion and culture. His fascination led him to write a short story about a teenager forced to action when Sumerian supernatural beliefs collide with modern day reality. Years later, the story would become the basis of his first feature length screenplay, Born of Earth.
"I actually went through some Sumerian texts when I was younger," Thompson said, "And this one passage used to freak me out. It talked about these things that lived in the caverns of the earth and would take children from their mothers. [Born of Earth] is like a revamped version of the story I wrote in high school. I changed a lot. The characters got older, I think because I got older and my outlook on things are different than when I was sixteen. It's always been with me. It's always been a story I felt like I had to get out."
It was ScriptBuddy that helped Thompson get this story out. Otherwise, Thompson's screenwriting skills were entirely self-taught; initially he didn't take any classes or read any screenwriting books. Even so, he realized the need to outline his story before jumping into writing, and he came up with his own strategy for it.
"It's kinda weird my whole system, but usually I pen and paper everything first. I start out with a short breakdown of what it's about. I buy a new notebook and start writing it on paper, and the next day I'll transfer what I did the night before on paper over to format, once everything's locked down. If it's just a spec script, I try to do a couple weeks of research. It probably takes about two months to get a story out of my head to a completed script."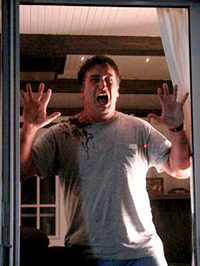 Building off his short story, Thompson wrote "Born of Earth". It's a horror/action-adventure about Daniel Kessler, a family man in a small town called Prophet Hills whose life is upended when monsters from below kill his wife and kids. Five years later, Danny returns to Prophet Hills an expert on the man-eating "Cannabi," whom he knows will ascend upon the town again that night. He intends to flee with his wife's sister and his niece, but when the bottom-line obsessed mayor delays his rescue, he's forced to stay and fight an army of Cannabi exponentially bigger than the one that took his family.
"I'm a fan of horror, so I like to write what I would love to see as a fan. I love the cheesy B movies as much as I love the real Hollywood blockbuster horror movies. It's just a good release for people."
The secret to writing is re-writing, and the feedback Thompson got from other writers in ScriptBuddy's screenwriter's community helped him polish Born to Earth before sending it to agents and readers at production companies, people who get paid to say no to scripts that aren't production-ready.
"I would submit it on Scriptbuddy, get feedback, take it all, go back, redo it and resubmit it," Thompson explained. "Because it took me several attempts to get it right. As far as your mom and everybody goes, they all think it's great. But to have feedback from people who will really shoot you straight is good too, and it's healthy. And they're all writers themselves, they're all trying it out too. So it's good to be in that kind of community. Kind of like on American Idol. If most of the people were upfront of their friends' singing capabilities, most of the people wouldn't be on the show."
Once Thompson was satisfied that Born of Earth was ready for the critical eyes of Hollywood, he mailed out query letters to every agent and production company he could find. But he quickly hit the wall of the screenwriter's paradox. Agents weren't interested in his writing if he hadn't been produced, but he couldn't be produced without an agent.
"Then what I started doing was contacting agencies that were looking for new writers," Thompson said. 'Kinda narrowed it down, and I got accepted by one. With the positive feedback [in the screenwriter's community], they happened to look at it when it was one of the top 4, so that helped too, I think. And we went through a couple of weeks of editing and even the editing didn't take long."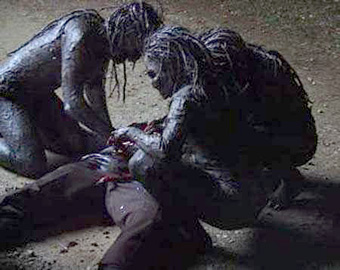 At this stage in his career, Thompson couldn't have asked for a better agency. Not only did it give the unknown Thompson a shot at selling his script, they even put him on "The Hot List," which meant his script was a priority to sell. Ninety days later, Thompson had an offer.
"And I got the news on my birthday," Thompson reminisced. "It couldn't have been better. It was my birthday, I read my email, and that's when I read the magic words, 'We would love to make you an offer.' I about collapsed. My knees went out from under me, because I never thought it would go, especially that quick."
The production office making the bid was The Skeleton Factory, a horror film production company Thompson had always admired. For Born of Earth, they put together a good-sized budget and hired Precinct 13—which worked on Hostel and The Devil's Rejects—to do the monster effects. Daniel Baldwin signed on to play Danny Kessler and accomplished character actor Brad Dourif plays the mayor. In this writer's dream, Thompson was in charge of all the re-writes.
His only regret was that when they invited him to the set, where he certainly would have been cast as one of the many dismembered corpses, he couldn't get away from the tattoo parlor. Shooting wrapped in November and the world premiere is on April 24 in Michigan, where the movie was filmed.
"The first time I saw the trailer," Thompson said, "I must have watched it 100 times in a row. I was mouthing the words they were all saying. It's just really weird seeing someone say what you wrote on paper. I'm still waiting to wake up from it sometimes. But as George Romero said, you make it, you watch it, you love it, then you leave it. So as excited as I am, I'm trying to focus on future stories."
Thompson's future stories include his first non-horror script, Defining Heroes, a character-centered drama he calls "one of those tear-jerkers." He's in the process of starting up his own production company, Campfire Pictures, through which he plans to produce and shoot movies himself. Thanks to the success of Born of Earth, Thompson is now able to give up all the random side jobs and focus on what he feels he's always been meant to do: make movies.
"I hadn't written in a few years prior to 2004," Thompson mused. "And once I started writing this script in ScriptBuddy and saw the difference between writing a novel and a script, I was just like wow, this is what I was meant to do. There's not a doubt in my mind. I've never felt so contented doing something in my life than when I'm in front of that computer writing a script."